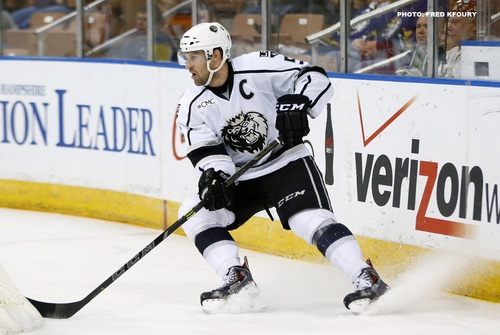 10/28/2014 9:21 AM
-
If you ask Vincent LoVerde whether he considered being named captain of the Manchester Monarchs this season, he answers with a swift "no."
But then he catches himself in a lie.
"I take that back," LoVerde said. "It crossed my mind a little bit."
A 25-year-old defenseman out of Miami University in Ohio, LoVerde was named the 11th captain in the 14-year history of the Monarchs. He takes over the captaincy from fellow blue-liner Andrew Campbell, who played in Manchester for parts of six seasons.
Campbell received Manchester's Community Service Award in each of the last three seasons before signing as a free agent with the Arizona Coyotes. He returned to Manchester for the first time as a visitor last Friday when the Portland Pirates came to town.
"Soupy was a great leader," LoVerde said. "I learned a lot from him throughout my two years with him and before him it was Marc-Andre Cliché, who I also learned a lot from. You kind of learn stuff from them, but at the same time, you can't try to be someone else. You've got to be who you are. But throughout the years, you'll pick up a thing or two that work well."
The Monarchs came into the season with a new head coach in Mike Stothers and a roster that featured seven rookies. To decide who would captain his team, Stothers gathered a group of returning players for a series of meetings that led him to naming LoVerde the captain.
Being named captain of a professional hockey team is a role completely unique to the sport. You are part spokesman, politician, older brother and disciplinarian for the club. It's a responsibility that LoVerde called "a privilege and an honor."
"You're kind of the voice of the team, but at the same time, I ask my assistant captains a lot of questions," he said. "They help me a lot and you're just kind of relaying messages back and forth. In terms of responsibilities, I think obviously there's some stuff that's tough to do or you have to have some tough conversations. But, it's part of the responsibility of being captain is having those tough conversations sometimes."
A native of Chicago, LoVerde has posted a combined plus/minus rating of plus-54 since his debut with the Monarchs during the 2012-13 season. He already has a goal and an assist in the first five games of this year. He's established himself as a leader on the ice, now he feels comfortable taking on a leadership role in the locker room.
"You just got to be yourself," he said. "Be who are and not try to change who you are."
The job description of captain also includes bargaining with the referees, staying as diplomatic as possible when arguing a call. So how's the relationship with the refs?
"I don't know," LoVerde said with a laugh. "I guess you'd have to ask them."
|
Back to index...
Browse by Year »
2018
2017
2016
2015
2014
2013
Browse by Month »
August 2018
July 2018
June 2018
May 2018
April 2018
March 2018
February 2018
January 2018
December 2017
November 2017
October 2017
September 2017
August 2017
July 2017
June 2017
May 2017
April 2017
March 2017
February 2017
January 2017
December 2016
November 2016
October 2016
September 2016
August 2016
July 2016
June 2016
May 2016
April 2016
March 2016
February 2016
January 2016
December 2015
November 2015
October 2015
September 2015
August 2015
July 2015
June 2015
May 2015
April 2015
March 2015
February 2015
January 2015
December 2014
November 2014
October 2014
September 2014
August 2014
July 2014
June 2014
May 2014
April 2014
March 2014
February 2014
January 2014
December 2013
November 2013
October 2013
September 2013
August 2013