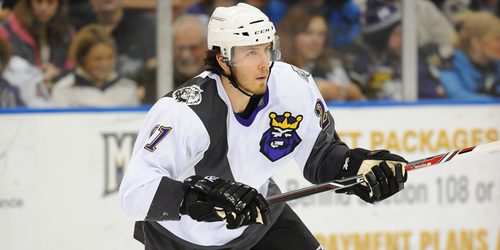 10/05/2014 9:03 AM
-
PORTLAND, ME - The Manchester Monarchs, the primary affiliate of the Los Angeles Kings, fell to the Portland Pirates 5-2 in preseason action.

Manchester (0-1-0-0) began exhibition play at the Cross Insurance Arena in Portland on Saturday night.

The five goals for the Pirates were netted by Jordan Southorn, Dan O'Donaghue, Henrik Samuelsson, Alexander Bolduc and Eric Sellek. Monarchs goals were scored by defensemen Kevin Gravel and center Andrew Crescenzi. Brandon Maxwell (0-1-0) and Yann Davis (0-0-0) split time between the pipes for Manchester with Maxwell totaling 15 saves, giving up four goals, and Danis saving 8, letting in 1.

Portland and Manchester meet up for a second preseason game Sunday at the Sullivan Arena on the campus of Saint Anselm College at 3:00 p.m. in Goffstown, NH. All Ticket Package Holders are allowed free admittance and can pick up their ticket packages for the 2014-15 season. All non-Ticket Package Holders will be asked for a donation to the Monarchs Care Foundation at the door to attend the Monarchs game. The youngest of Monarchs fans will also be able to sign up for the 2014-15 Kids Club at the game on Sunday, October 5.

During the 2014-15 season, the Monarchs and Pirates will battle for the third annual VIP Cup, presented by VIP Tires and Service. The team with the best record in their head-to-head match-ups this season will be named the VIP Cup Champion. The Pirates won the inaugural VIP Cup during the 2012-13 season with a record of 7-4-1-0 against the Monarchs (5-5-2-0). Manchester skated away with the second annual VIP Cup during the 2013-14 season with a record of 9-3-0-0 against Portland (3-5-2-2).

Secure your seats for Monarchs Home Opening Weekend, presented by Manchester Subaru , through the Opening Weekend Pack! Get two great seats for either the Opening Night game on Friday, October 24 or Opening Saturday game on October 25 as the Monarchs drop the puck on their 14th season in Manchester. In addition, you will receive six flex vouchers and a limited edition Opening Weekend puck (exclusive to this package). For more information, visit www.manchestermonarchs.com or call the Monarchs Front Office at (603) 626-7825.

|
Back to index...
Browse by Year »
2018
2017
2016
2015
2014
2013
Browse by Month »
August 2018
July 2018
June 2018
May 2018
April 2018
March 2018
February 2018
January 2018
December 2017
November 2017
October 2017
September 2017
August 2017
July 2017
June 2017
May 2017
April 2017
March 2017
February 2017
January 2017
December 2016
November 2016
October 2016
September 2016
August 2016
July 2016
June 2016
May 2016
April 2016
March 2016
February 2016
January 2016
December 2015
November 2015
October 2015
September 2015
August 2015
July 2015
June 2015
May 2015
April 2015
March 2015
February 2015
January 2015
December 2014
November 2014
October 2014
September 2014
August 2014
July 2014
June 2014
May 2014
April 2014
March 2014
February 2014
January 2014
December 2013
November 2013
October 2013
September 2013
August 2013